DESTINATION: LAK
HOW TO GET THERE
LAK (DAKLAK province) lies between two capital cities of Central Highlands, 50km south of Buon Ma Thuot City (airport) and 160km north of Da Lat. From Ho Chi Minh, Ha Noi or Da Nang, there are daily flights (1 hour) to Buon Ma Thuot airport. From Buon Ma Thuot City (or Airport), drive southward on the smooth National Road 27, about 50km, 1hour until you get to Lien Son town, LAK district. Find your way to Jun village or Bao Dai pier byside Au Co road (on the foot of Bao Dai Palace mounts). A short 10-min private boat ride on the picturesque Lak lake will take you to LAK Tented Camp. In some months, it maybe windy in late afternoon, thus the lake crossing can be less comfortable. We strongly recommend guests arrive in LAK no later than 16:00, in case of late arrival, we reserve the possibility the offer access to LAK Tented Camp by backroad.
LAK can be connected with Nha Trang (4-hour driving) or Cambodia (via O'Yadaw/Le Thanh border in Pleiku or Bu Prang border in Daknong).
REGIONAL ATTRACTIONS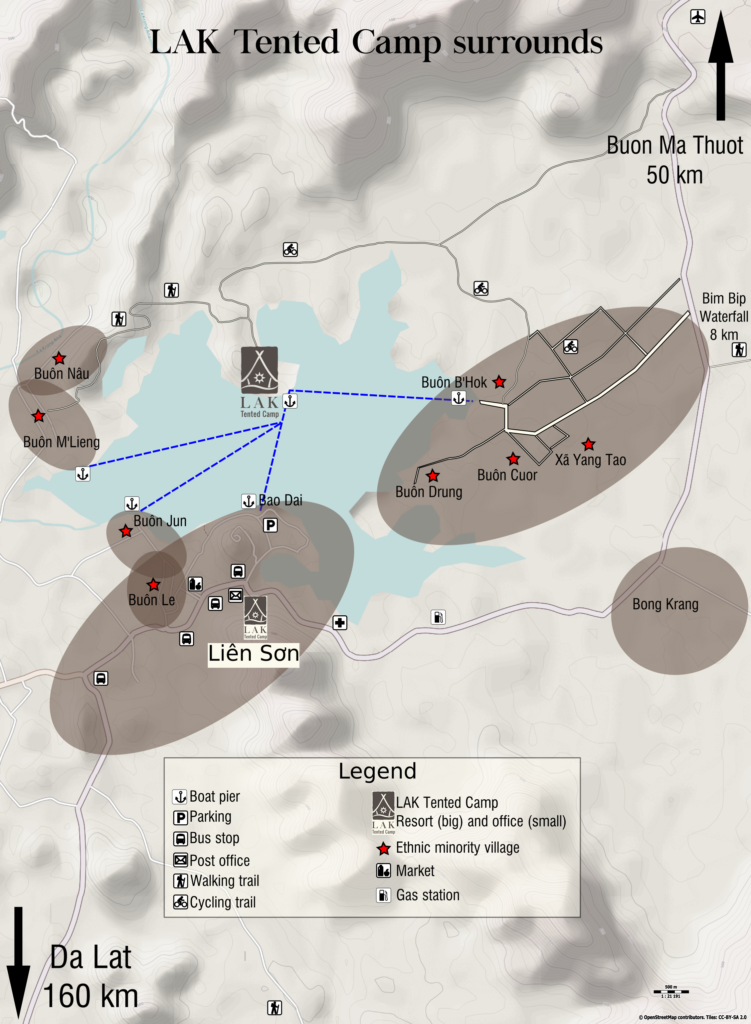 LAK is a not-to-be missed destination, for an extension ESCAPE or integrated in Central Highlands itinerary.
Full day Buon Ma Thuot city tour & Dray Sap waterfall
6-hour soft trek to Bim Bim waterfall (7km from LTC) + picnic lunch
3-hour M'Nong cultural village walk (M'Lieng, Nau village, 4km from LTC)
4-hour guided immersion bike tour to Yangtao village (6km from LTC)
Full day hard trek to hidden waterfall in Dakphoi (24km from LTC, jeep ride & trek)
Read more on TOURS & ACTIVITIES